Description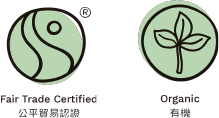 Made in Germany

A smooth milk chocolate, infused with zesty natural orange.

All of the cocoa in Divine chocolate is grown in Ghana by Kuapa Kokoo, a co-operative of cocoa farmers who own the largest share of the Divine company. It means the cocoa farmers receive 44% of the profits. The chocolate is sweetened with sugar from Kasinthula, a Fairtrade co-operative in Malawi and flavoured with creamy vanilla from Fairtrade farmers in Madagascar. 
Owned by cocoa farmers, made for chocolate lovers.
Suitable for vegetarians and vegans.
Ingredients: 
sugar, cocoa butter, dried cream, cocoa mass, whole milk powder, emulsifier: sunflower lecithin, natural orange flavour, vanilla.

營養資料 / 每100克
Nutrition Information / Per 100g
能量/

Energy

541kcal (千卡)

蛋白質/

Protein

6.3g (克)

脂肪總量/

Total Fat

31.5g (克)

飽和脂肪酸/

Saturated Fat

19.8g (克)

反式脂肪酸/

Trans Fat

0g (克)

碳水化合物/

Carbohydrates

57.3g (克)

糖/

Sugars

56.5g (克)

鈉/

Sodium

200mg (毫克)



Customer Reviews
{{'product.product_review.no_review' | translate}}